Purchase Orders
Please contact one of Tenable's
Authorized Partners
if you need to submit a Purchase Order. Our
W9
form is also available online.
Contact Info
7021 Columbia Gateway Drive
Suite 500
Columbia, MD 21046
410-872-0555
sales@tenable.com
Nessus Perimeter Service
Cloud-based Service
Comprehensive and Secure Cloud-based Vulnerability Management
Tenable's Nessus Perimeter Service including the Tenable PCI Scanning Service is a remote vulnerability management platform which directs internal Nessus scans and audits, performs scans of Internet-facing IP addresses for network and web application vulnerabilities, and provides PCI Approved Scanning Vendor (ASV) compliance.
Nessus Perimeter Service provides secure web access to launch scans, generate reports, and examine detailed vulnerability audits and remediation information from any location.
Perimeter Service is supported by a world-renowned research team and has a continuously-updated library of vulnerability and configuration checks, making it suitable for even the most complex audits.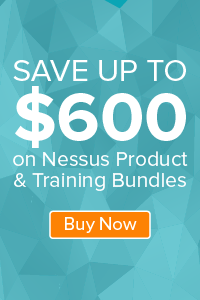 Subscription Details
Nessus Perimeter Service is available as a subscription which includes:
1-, 2-, or 3-year renewable subscription to Nessus Perimeter Service including the Tenable PCI Scanning Service
Direct internal, external, or AWS-based scans
Unlimited scanning
Unlimited IP addresses/ranges
Web application vulnerability assessment
Ability to perform baseline security assessments against current PCI standards
PCI ASV validation by Tenable's PCI-certified experts with up to 2 submitted scans per calendar quarter
24/7 access to the Tenable Support Portal for access to Nessus knowledgebase, support ticket creation, and live chat support
1 user account per subscription
Manage unlimited Nessus scanners
Key Benefits
Rapid deployment/low overhead: No software installation, rollout, or maintenance
Value-based licensing: Pay one flat fee and scan as many Internet-facing IP addresses as you want, as often as you like
Easy to use: Automated scans initiated via a web browser
Manage unlimited internal Nessus Scanners from a secure, remote location
Comprehensive: Continuously-updated library of more than 60,000 vulnerability and configuration checks
Secure: Trusted, third-party vulnerability scans with end-to-end encryption